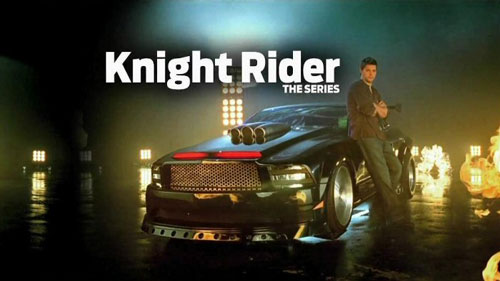 Tonight at 8/7c, for the first time in over twenty years, Knight Rider will return to the primetime airwaves and we couldn't think of a better time to do it. A proper continuation of the Knight Rider legend, it has have non-stop action, humor and the core value of one man and his team making a difference.
Like many of you, I have fond memories of Knight Rider growing up as a child. These memories are of a series of 84 episodes placed on a mantle and glorified by the rose-tinted glasses of nostaliga. It will take alot of effort for the producers of the new series to not only meet but exceed our expectations - and if this first episode is any sign, they're doing great so far.
Last week many of us in the US took advantage of an online preview week and watched from the glow of our computer monitors, the premier episode of Knight Rider. It continues the story that we left off with in February, with characters created then by David Andron, and now injected with adreneline by Gary Scott Thompson. Some characters have left, others have been added. KITT has been given some upgrades; in the pilot we saw that he was able to shift from a Mustang to a couple of other colored Mustangs using his nanotechnology. The tech in the series seems to be nano v2 as KITT can now transform into an F150 pickup truck as well as a badass version of the Attack KITT.
In regards to the story, we pick up in real time from where we left our heroes. Undercover at a gala, Sarah and Mike are looking to get their hands on some information. All is going according to plan until Sarah is captured and needs to be rescued. By three minutes in Mike is racing down hallways and kicking the stuffing out of bad guys, and so begins the pace that will barely slow down for the rest of the hour.
You want Turbo Boost? You got it. Action? There are explosions, fight sequences, chases, rocket launches - all this and more before the opening credits roll at nearly ten minutes in. You want a hero that has is forced to lose his identity in order to help the innocent, you want the legend of Michael Knight to live on - you'll have it.
In a time where the economy is going down and we are living with a never-ending war, it's shows like this that should be welcomed. Movies and television give us a place to escape to. Somewhere were we can just gather with friends, eat some popcorn and strap in. Knight Rider will never be the next Lost or Hereos, and it shouldn't try to be. This is escapism at its best, heart pounding action from beginning to end. Grab some friends and enjoy the ride.

We've had a great time over these last few months covering the road to this premier. There will be more we have to share with you andthe months ahead look to to be as exciting as the previous. So keep checking in here for coverage you can not find anywhere else!
Below are some of these exclusives that we've been able to bring to you. Also check out our Knight Rider section for everything dealing with this series including upcoming episode guides:
Paul Campbell: On-Set Exclusive
Please stop by our forum and post in our Live Discussion thread!