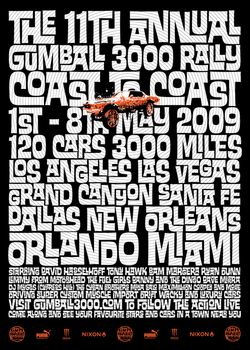 News broke last week that David Hasselhoff will once again participate in the Gumball 3000, an annual car event in the vein of "Cannonball Run". This year the cars will trek from the west coast starting in Los Angeles, all the way to the east coast finishing in Miami Beach Florida.
We followed the Gumball 3000 last year and even got to catch up with David Hasselhoff at the LA finish line. Hopefully we'll have the same luck this year.
The official word from Gumball 3000:

STOP PRESS: HASSELHOFF FOR GUMBALL
20.04.2009 Rally News

Alert the media, alert the authorities – David Hasselhoff will be driving this year's "Coast to Coast" Gumball 3000.

Accompanied by his daughters, Taylor-Ann and Hayley, the Hoff will be joining over 100 supercars in the seven day drive from Los Angeles to Miami, which departs from Santa Monica Pier on Saturday 2nd May.

The actor, whose hit show 'Baywatch' remains the most watched television show in the world with over 1.1 billion viewers, waved the starting flag in San Francisco for the 2008 Gumball.

Gumball blogger, Georg Fecthter, convinced the star to join him on last year's rally. As the Hoff's godson, Georg was given one of the original Knight Rider KITT cars as a gift on his birth and, after spending $40,000 on restoring the 1982 Pontiac Trans Am to its original condition, entered the world famous car in the 2008 rally.

Unfortunately, KITT came a cropper with a broken fuel pump in Los Angeles just one day into the rally. Luckily though, the Hoff had already swapped vehicles to a more up to date and reliable Audi R8.

The star, who in 2006 saw a musical based on his life open in Australia, is still to confirm what he will be driving on this year's rally. But you can rest assured it will be one of the most photographed cars on the route.
thanks to dhasselhoff.net for spotting it first.