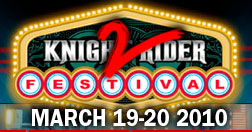 In an exclusive interview for our 11th edition of the Knight Rider Online Podcast, Honnziva speaks with Paul Casey. Paul was the producer behind the Knight Rider Festival, that took place this year in Las Vegas for Knight Rider and Children's Miracle Network. We catch up with Paul and get his thoughts about how the event went, the money raised for the charity and talk to him about the future. In particular he lets us know about the confirmed date for Knight Rider Festival 2 - March 19-20, 2010.
Please welcome Honnziva and Weeezl for their first podcast for us! There is more than just the interview with Paul, so please check it out! We hope to get under a regular schedule for these, so please check back. You can find the podcast here.
And thanks again to The Shadowy Flight for hosting last weeks podcast!