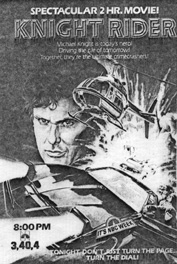 Thirty years ago tonight, Knight Rider aired for the very first time on NBC. Originally driven by NBC exec Brandon Tartikoff's desire to have a new type of action hero, it was ultimately Glen A. Laron's vision and David Hasselhoff's Michael that brought it to life. Expectations were mixed from the start, and none could predict the success at the time and culturally since that it hard. Across 82 episodes and 90 hours of television (not to mention the reunion movies, attempts at revival, and countless parodies), Knight Rider is solidified in history.
We want to take a moment to thank everyone who helped bring this show to air, and inspiring a generation. The belief that one person can be empowered to make a difference against great odds as been instilled in the core of many - and for that we thank you!
So tonight, grab your DVD, VHS, Hulu or whatever method you have at your disposal - and rewatch the Pilot episode and try to remember what it felt like way back when. We have plenty of discussions in our forum highlighting some of the articles from back in the day, and be sure to check out our episode page for more on the episode itself - including the teaser for the original premier!