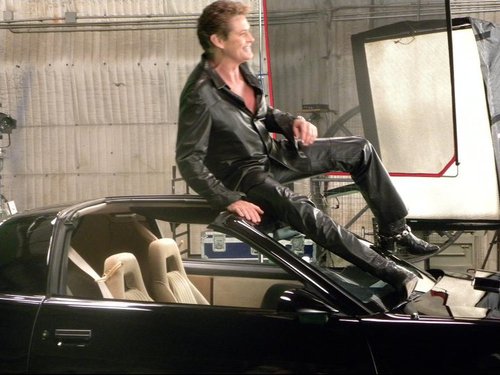 News broke recently that David will be featured by Comedy Central in their celebrity roast series. Filming will be on August 1st, with airing on August 15th at 10pm.
Press Release below thanks to davidNet:
NEW YORK, June 9, 2010 /PRNewswire via COMTEX/ — International superstar and television icon David Hasselhoff has been announced as COMEDY CENTRAL's next Roastee. The show is scheduled to tape this summer in Los Angeles. "The COMEDY CENTRAL Roast Of David Hasselhoff" will air on Sunday, August 15 at 10:00 p.m. ET/PT.

"I'm honored that COMEDY CENTRAL is going to get 'Hoff' on me," said David Hasselhoff. "I have always been a major fan of Roasts, dating back to the days of the 'Dean Martin Celebrity Roasts.' Laughter is the best medicine. Bring it on! I'm ready to take the heat."

"David Hasselhoff is a worldwide celebrity who has and continues to entertain audiences around the globe," said Elizabeth Porter, senior vice president, specials and talent for COMEDY CENTRAL. "By the end of this year's Roast, this pop culture icon will surely see that no slow motion run or life preserver can save him."

The "COMEDY CENTRAL Roast Of David Hasselhoff" will be executive produced by Joel Gallen from Tenth Planet Productions, who was also executive producer and director of the "COMEDY CENTRAL Roast Of Joan Rivers," "COMEDY CENTRAL Roast Of Larry The Cable Guy," "COMEDY CENTRAL Roast Of Bob Saget," "COMEDY CENTRAL Roast Of Flavor-Flav," the Emmy-nominated "COMEDY CENTRAL Roast Of William Shatner" and the "COMEDY CENTRAL Roast Of Pamela Anderson." Larry Thompson will also serve as executive producer and previously held this title on the "COMEDY CENTRAL Roasts" of Joan Rivers and William Shatner. Elizabeth Porter is the executive in charge for the network.
The image above is from a filming for the promotional commercials around the roast. Star Cars Central founder Nate Truman had his car featured for the shoot. He writes on his Facebook:
The Hoff smears cheeseburgers into my headlights, and dances on the roof, hit KITT with a hose over and over soap scum all over the car.... and I am OK with that! Comedy Central Roast promos shot yesterday, and the Hoff asked for my car specifically! He signed KITT too.
If you are in LA in August, you can apply to get tickets. Details on how can be found here!