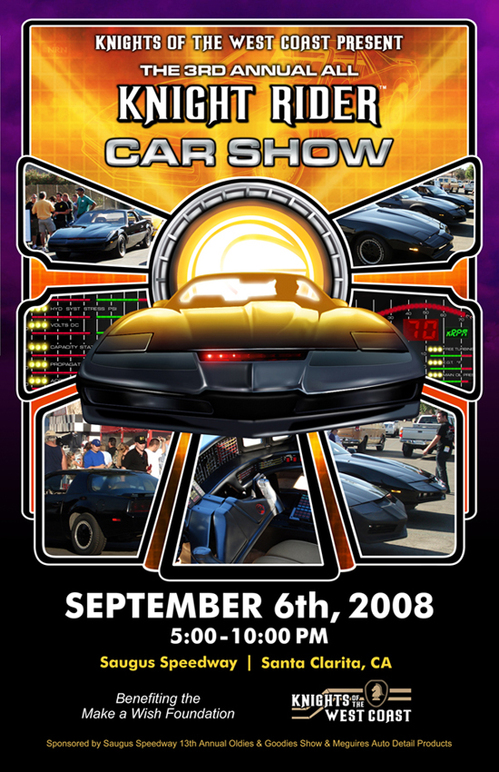 We've mentioned it before, but today is 'the' day for the Knight Rider Car Show at Saugus Speedway!
Taking place at the raceway made famous in episodes such as Slammin' Sammy's Stunt Show and the original pilot - this event will be talked about for some time to come! In it's third year, the Knights of the West Coast Knight Rider Car show will bring replicas of the Knight Industries 2000 in touch with fans of the series. Additionally, special guests who worked on the series will be there.
Who you ask? Well only Glen Larson (creator of Knight Rider), Michael Scheffe (creator of KITTs design), Don Peake, and Ron Martinez who will be there to answer your Knight Rider related questions as well as sign autographs.
So if you are a Knight Rider fan and live near Santa Clarita, California - then head over to Saugus Speedway (22500 Soledad Canyon Rd
Santa Clarita, California. Five miles from Magic Mountain) between 5pm-10pm tonight. Glen and Michael are scheduled to arrive at 6-7pm, traffic depending. Proceeds from the event will go to the Make A Wish Foundation of LA.
We'll be covering the event for those of you who can not make it down, and hope to have that up for you in the next day or so. And if you are going, and you see someone in a KRO t-shirt, do say hello!