With three prominent events scheduled for this month, we've decided to take a break from our regularly scheduled programming for a few minutes, in an effort to ensure that you're aware of what's going on in your area.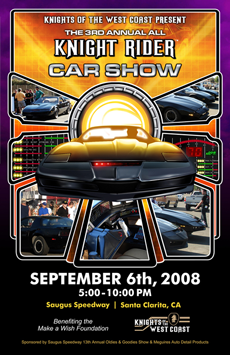 On Saturday 6th September, 2008, the Knights of the West Coast will present their third annual All Knight Rider Car Show from the Saugus Speedway, in Santa Clarita, California.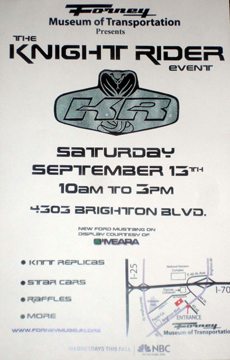 Also, on Saturday 13th September, 2008, the Forney Museum of Transportation will bring us The Knight Rider Event, which emanates from their home in Denver, Colorado.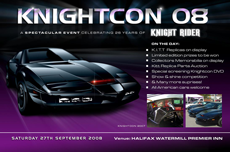 And finally, on the neibouring side of the Atlantic Ocean In the United Kingdom, on Saturday 27th September, 2008, the second annual KnightCon UK event will emanate from the Halifax Watermill Premiere Inn.
We'll have more coverage throughout the course of the month, so stay tuned.