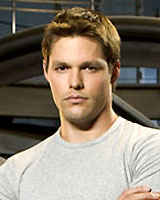 Cool news.... Teresa Huang, staff writer for Knight Rider '08, got in touch with us to let us know about a new kickstarter short film project she's working on with some other Knight Rider alumni! The movie is called "Early Retirement", and is "a short film about two contract killers engaged in a deadly game of cat and mouse that only serves to cover a flirtatious love affair."
Justin Bruening is the lead actor - Teresa tells us "This project will mark his return to kicking ass and taking names! " Justin is also a producer.
Teresa will be producing and acting in the film opposite Justin. Our very own on-location reporter Sue interviewed Teresa during Knight Rider's production several years ago.
Rajeev Dassani is the director. Rajeev started Master Key Productions, the company that did all of the visual effects for Knight Rider. We visited them over the summer before the series started, and they gave us some great previews on video of the work they were doing.
In the last 4 days they raised about $3000 to reach their goal, but you have less than 36 hours to join in too. We pledged some money, and hope you'll think about doing the same. Come on, don't you want to see Justin getting poisoned on screen?