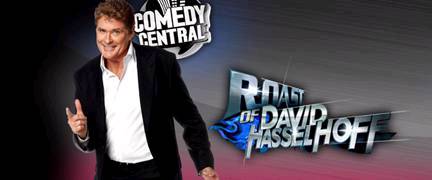 Tonight, David Hasselhoff will have the honor of being Roasted, and here is what we know! At 6pm PST, the stars will begin to walk the red carpet as they enter the event and we will be there! Both Roasters and friends of David alike are expected to appear, including Rebecca Holden who you know played April on Knight Rider. Shortly after filming will begin! The "COMEDY CENTRAL Roast of David Hasselhoff" airs on Sunday, August 15 at 10:00 p.m. ET/PT.
It is quite an honor to be roasted by your piers, and we send a heart felt congratulations to David Hasselhoff, and wish him good luck!
"COMEDY CENTRAL ROAST OF DAVID HASSELHOFF" TAPES ON SUNDAY, AUGUST 1

WHO: David Hasselhoff – Roastee
Seth MacFarlane– Roast Master

Confirmed Roasters:
Pamela Anderson Whitney Cummings Greg Giraldo
Gilbert Gottfried George Hamilton Hulk Hogan Lisa Lampanelli Jeffrey Ross Jerry Springer


Attendees:
Traci Bingham Angelica Bridges Eric Braeden
Nicole Eggert Wings Hauser Brooke Hogan
Rebecca Holden Jeremy Jackson Mitzi Kapture
Gena Lee Nolin Alexandra Paul Craig Robinson
José Solano Gregory Alan Williams


-More names to come/Names subject to change-

WHAT: "The COMEDY CENTRAL Roast Of David Hasselhoff

A storm's a-brewin' as COMEDY CENTRAL makes waves for the newest Roastee, international superstar and television icon, David Hasselhoff. Emmy-nominated "Family Guy," "American Dad!" and "The Cleveland Show" creator and performer Seth MacFarlane will join the elite family of COMEDY CENTRAL Roast Masters as he heads up an all-star lineup of Roasters who reign paramount in their respective arenas, including the world's most bonafide sex symbol, bone crushing wrestler, controversial talk show host and ruthless comedic masterminds. The "COMEDY CENTRAL Roast of David Hasselhoff" tapes at Sony Studios in Los Angeles on Sunday, August 1. The "COMEDY CENTRAL Roast of David Hasselhoff" airs on Sunday, August 15 at 10:00 p.m. ET/PT.

We are very honored to have been invited to the red carpet, and will be catching up with all the stars as the enter the festivities. We've also have access to liveblog during the taping, so be sure to check back here tomorrow for insight on the show that you wont see publicly for another two weeks!