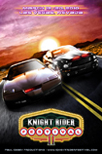 As you know, it that's time of year again, where everyone who's able to, is travelling to Las Vegas for the second annual Knight Rider Festival.
Unfortunately, there are many of us who are unable to make the journey. In an effort to provide an equally unique experience, we at KRO will once again be covering the event as it happens, with interactive video coverage featured throughout.
So if you'd like to join us from 5pm PDT on Friday 19th March, until 11pm PDT on Saturday 20th March, just follow the link to our live page, and enjoy the very best coverage that's available.
To synchronise with your local time zone, just check the time in Las Vegas against the time at home, and we'll see you there.