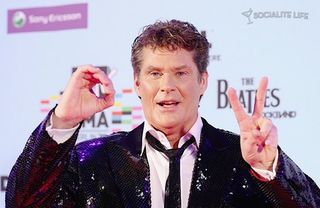 After learning that David was being replaced by Howie Mandel on "America's Got Talent" it was unsure what the veteran Knight Rider actor might do next.
The Hollywood Reporter reports that the cable network A&E has ordered a 10 episode serise that will focus on the actors entertainment endeavors and helping his daughters break into the recording industry. The series will be produced by FremantleMedia and will debut this year.
"It's the dream of every parent to be able to help their children succeed," Hasselhoff said. "I told the girls that I would help them open the door when they are ready, but they would have to walk through it on their own. This is their time and I am excited to be a part of it."
Of course, as THR points out, some fans might tune in expecting to see the Hoff on one of his alcohol adventures, but with any luck he will disappoint.