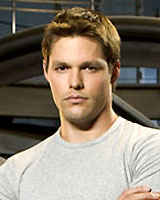 After a well deserved break, news comes that Justin Bruening will be returning to TV with a staring roll for the Hallmark Channel!
From worldscreen

LOS ANGELES: Production is under way on the new Hallmark original movie Class, which stars Jodi Lynn O'Keefe, Justin Bruening, Constance Marie and Eric Roberts.

The movie follows a well-to-do law student (Bruening, Knight Rider, General Hospital), who is given an assignment to help a disadvantaged single mother (O'Keefe, Prison Break) find a job. His professor (Marie, George Lopez) makes this part of his requirement to graduate. A series of incidents and unexpected events lead them to realize that they're more alike than they had at first thought, and they come to understand that they have a lot to learn from one another.
According to Variety "Class" it will air on February 1st on the Hallmark Channel and broadcast in HD
Congrats to Justin!