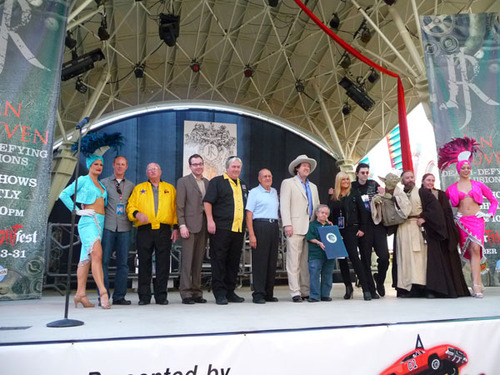 An amazing weekend was had in Las Vegas as Paul Casey put on the first Las Vegas Car Stars. With over 15 TV & Move cars, many Hot Rods and celebrities (from Knight Rider: Michael Scheffe and Catherine Hickland!) a great time was had while also helping the Children's Miracle Network.
Paul continually proves to be a driving forcing in being one man making a difference through these events to help these children's lives. Knight Rider Festival II takes place in Las Vegas March 19-20, 2010. We'll have more about that in the upcoming weeks and months.
You can find more photos on the Las Vegas Car Stars website or in the Knight Registires forum. As a special treat you can find video from the event on Catherine Hickland's twitter, and author Nick Nugent's YouTube.