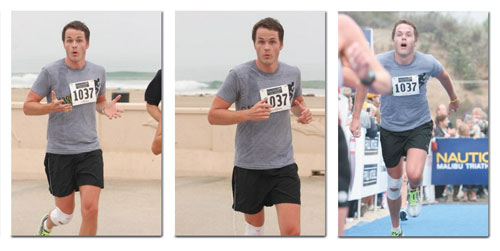 Last year our own Michael Pajaro ran into Paul Campbell at the Nautica Malibu Triathlon. We just got word from Paul and his lovely wife Laurie that they are racing again. Similar to last year they will be racing as part of a relay team, with Paul doing the running leg. This is being done to raising money for the Children's Lifesaving Foundation, and they are accepting donations for the charity.
As Lorie explains it:
"The charity is The Children's Lifesaving Foundation --it is a non-profit based in Venice and is dedicated to totally transforming the lives of LA's at-risk homeless youth and families. During the school year we tutor the children after school --and in the summer we provide a surf camp at Zuma beach twice a week."
Paul and Laurie are actively involved with this Foundation, dedicating their time and not just money to the charity. It would be great if we could help them with their fundraising efforts by sponsoring them for the race. You'll even get to see a cute wedding photo of them on the donation page.
Good luck on the race!