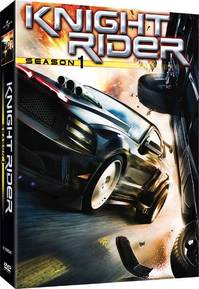 Finally after much rumor and some delay, the first season of the new Knight Rider will be released on July 28th. TVShowsOnDVD was first to break the news today of it's release date.
A month or so ago we had told you that Amazon put up the pre-order, but no further information was available at the time. Last year, NBC had planned to release the two hour pilot separately but that was canceled once the show went to series. After that, Fry's made it available as a promotion if you bought another dvd. But this will be the first time it's available for all.
You can pre-order it at Amazon for $41.99 through our Amazon store and a percentage of your purchase will go back to support KRO.
This will be a 4-DVD set running 802 minutes, presented in anamorphic widescreen video. Audio is English Dolby Digital 5.1 Surround, and English subtitles will also be provided. There will also be a few bonus features:

* The Icon Reborn
* K.I.T.T. - From 2000 to 3000
* Knight Rider - Legacy
* Knight Rider 2008 Commentary With Executive Producer David Bartis and Stars Justin Bruening & Deanna Russo

Package art isn't available yet, but here is the studio description of this release:

An iconic TV classic is back and better than ever in the reinvented, updated, and super-charged Knight Rider Season One. From executive producers Doug Liman (The Bourne Identity franchise), David Bartis (The O.C.) and Glen Larson (Battlestar Galactica) comes this action-packed series about the coolest car ever created, K.I.T.T. (Knight Industries Three Thousand), that's equipped with artificial intelligence capable of hacking into any computer, the weapons system of a jet fighter, and incredible custom body technology that allows it to transform into other vehicles. Relive every Season One episode as an elite team of crime-fighters work with K.I.T.T. to track down elusive, high-tech villains. You won't want to miss this fast-paced ride to the wild side!
Read the rest at TVShowsOnDVD
**UPDATE** Added new box art - thanks to TVShowsOnDvd