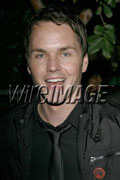 The Hollywood Reporter writes today that Paul Campbell, our Billy, will star in a pilot being produced by ABC Studios entitled "No Heroics"
ABC Studios' "Heroics" revolves around four B-list superheroes living among the general population. Canadian Campbell ("Knight Rider") plays the leader of the group, a Canadian-born superhero who can freeze small objects. He is repped by WMA and ROAR.
While terrific news for Paul, this also would cast doubt on Knight Riders chances. However as a working Actor, we understand that he would take up new opportunities. Pilots are routinely developed by studios only to not be picked up for a full series.