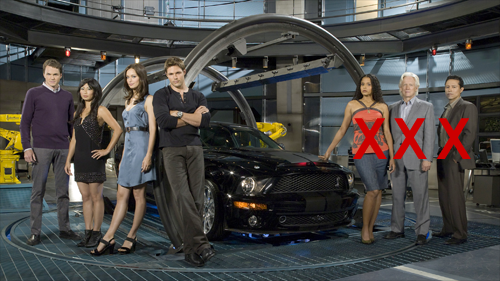 In a story just broke by the Hollywood Reporter, it seems that several members of the cast will not be continuing past the original 13 episode order.
NBC's freshman drama "Knight Rider" is undergoing a major retooling, bringing it closer to the original 1980s series. Among the changes, the options of three regulars on the show -- Sydney Tamiia Poitier, Yancey Arias and Bruce Davison -- were not picked up beyond the initial 13-episode order.

"It's a reboot," "Knight" executive producer/showrunner Gary Scott Thompson said. "We're moving away from the terrorist-of-the-week formula and closer to the original, making it a show about a man and his car going out and helping more regular people, everymen."

Such a change would make "Knight" a better fit into NBC's newly rebranded crime drama Wednesday lineup alongside "Life" and "Law & Order."

The revamped "Knight" will kick off with the two-part Episodes 10-11. NBC is planning a major push, including possibly airing Episode 10 on Sunday after an NFL football game in January, with the conclusion airing the following Wednesday.

Such a move would bring "Knight" back to Sunday night, where the two-hour movie/backdoor pilot drew big ratings in February.

The series it spawned has been struggling in the Wednesday 8 p.m. slot, dropping last week to a season-low 5.1 million viewers and a 1.6 rating/4 share in adults 18-49.

The retooling had been put in motion long before the full-season order for "Knight" three weeks ago. The UMS/Dutch Oven series is now filming Episode 15.

There are no immediate plans to add new regulars to the show, which will focus on the five remaining characters: Mike (Justin Bruening), Sarah (Deanna Russo), Billy (Paul Campbell), Zoe (Smith Cho) and KITT. The producers also are looking to do stunt guest castings.

Thompson stressed that the decision to let the castmembers go was a difficult one tied to the show's change in direction and had nothing to do with the actors.
What this means to the characters that remain, the current story lines and the SSC will be unknown for some time. This raises a lot of questions and it will be some time before we will have a clear picture of what is down the line.
On a personal note, we just want to wish those cast members that are departing well. Have personally spent time them, they are truly dedicated and talented actors in their field. We are saddened to hear that they will no longer be on the series and wish them the best with whatever the future holds.

[Hollywood Reporter]