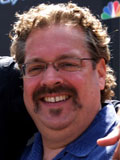 On NBC's Knight Writers blog, wirters from the series will be interacting and answering questions from the audience. The entries thus far have come from Gary Scott Thompson himself. This week he answers some viewer mail:
What happened to FLAG? You'll find about FLAG in episode 13.

I hope you're going to continue the story with kitt vs karr.
Keep watching, KARR has not been forgotten.

what is the username and password for Knight Industries Research?
Watch the show for clues...

Thanks again for bringing Knight Rider back! I would like to ask that hopefully in the series you will get to explain Flag, Devon, Bonnie, Michael Knight, & the Knight Industries Two Thousand's where abouts! Can't wait to see what happens!
Keep watching...

Is it just me, or are WAY TOO MANY people completely missing the point that this show is just plain old fun, and that it intentionally doesn't take itself that seriously?
You are correct. We're trying to be fun and entertaining in much the same way the original Knight Rider was.
Be sure to check out the complete article for all of the Q&A including an update on Hasselhoff and KITTs technologies.