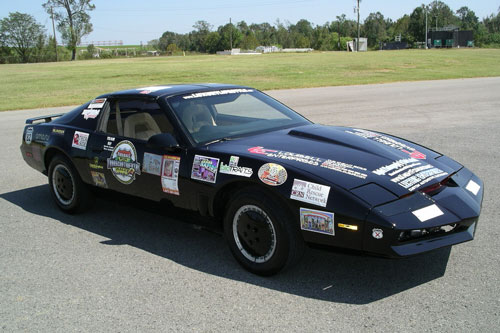 The Fireball Run Transcontinental Rally, took off this weekend from Baton Rouge, Lousiana. Now in it's second year, this 3500 mile 9 day journey features over 100 teams on their way to their final destination of Grand Rapids, Michigan.
The race is played like a 'game' where drivers receive clues along the way to get to their next destination. The cars are sponsored by different groups but also carry a more important message of trying to help finding missing children, as each vehicle carries the image of someone who is lost.
This year's theme focuses on an 1980 theme, and carries none other than a KITT in it's midst. Darrin Cooper of Innovative Auto Design has entered his KITT that he has rebuilt from the ground up and is sporting a 383 hp engine. Joining him in his journey is David Lousiell who has helped Darrin in building his vehicle.
You can find out more about Team Innovative Auto Design from the Fireball Run website. Additionally you can follow their progress via the Foundation message boards (with additional photos) or Fireball's official tracker.