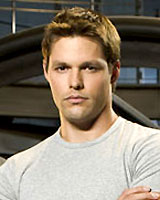 While the series premier of Knight Rider airs tomorrow night at 8 on NBC, Justin Bruening will be doing his part during the day to help promote the show. Here are a few chances you'll get to catch a live interview with Justin.
"Hollywood 411" on TV Guide Network
TONIGHT! Tuesday, September 23 @ 9:00pm ET/PT


"CW11 Morning News" on CW11
Wednesday, September 24 @ 7:40am ET


"The Today Show" on NBC
Wednesday, September 24 @ 9:43am


"Dayside" on MSNBC
Wednesday, September 24 @ 10:00am ET
Good luck on those interviews Justin, and hope during your insane day you have a moment to enjoy your 29th birthday!