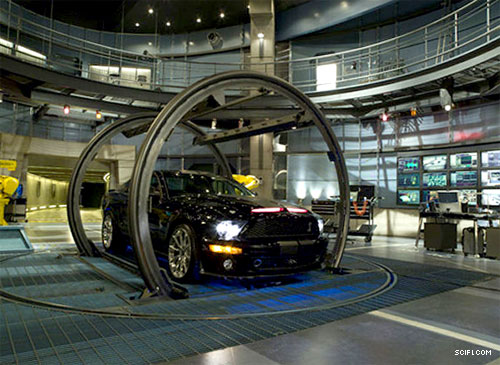 Continuing their coverage of Knight Rider, today Sci Fi Wire wrote about their trip to the Satellite Surveillance Center (SSC) or what has been more commonly called the "KITTCave"
In reality, the lab--situated in an undisclosed location in an unidentified city--is actually an elaborate set at Santa Clarita Studios, just north of Los Angeles. The set represents K.I.T.T.'s multilevel underground hideout.


In the center of the set, on a rotating metal platform, sits the $75,000 2008 Ford Mustang GT500KR itself. When K.I.T.T.'s ready to go, it revs up and speeds down a tunnel inside a soundstage. "They don't let me drive it very much, but I get to sit in it, and it's pretty comfortable," admitted star Justin Bruening, who plays Mike Tracer, the ex-soldier who is the human companion to the super-intelligent talking car voiced by Val Kilmer. (Tracer acquires the codename "Michael Knight" in the show's first episode.)
Definately an interesting read that is worth checking out!