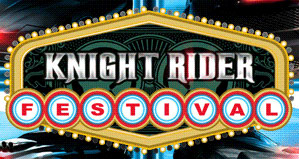 Exactly one month from now - fans and celebrities alike will descend upon Las Vegas for the Knight Rider Festival which runs March 20th-21st. Time is running out to get your plans lined up!
Here are some updates on the goings on:
Deanna Russo has been added to the confirmed guest list!
Car owners looking to participate can still do so (but now at a cost of $45) via the registration page. Doing so gets you a pass to the exclusive VIP party on Friday night. You have until March 10th.
In proper Las Vegas style they will be doing a drive thru wedding in KITT! "Friends, Knight Rider Festival is excited to announce KITT will take part in a true Las Vegas Style Drive Thru Wedding on Friday, March 20, 2009. A very lucky couple will exchange vows in KITT as the go thru the Little White Chapel. A true Vegas first...the media will be on hand to capture this moment with the King of Rock & Roll on hand....'only in Las Vegas."
We are still collecting donations on behalf of the Festival for the Children's Miracle Network. Remember that this is a free event looking to raise funds for the charity and personifying that we can make a difference. If you can't make it there you can still help by making a donation, any amount is greatly appreciated!
And here is the official PR release with a photo of Paul Casey (the festivals creator) and the Mayor of Las Vegas

KNIGHT RIDER FESTIVAL
March 20-21, 2009
Fremont Street, Las Vegas, NV

"One man can make a difference"

For Immediate Release: KNIGHT RIDER FESTIVAL pays homage to original television and it revolutionary car of the future "KITT", the original TV series & New 2008 NBC Show that began in Fall 2008.

The event will have attendees and fans from No. & So. America, Japan and Europe. Highlights include a raft of celebrity appearances, LV Strip 'Cruise' with KITT, TV Cars display, Cars of the Future Car Show, Entertainment, Drawings, Giveaway and Promotions, Stunt Show, and a special recognition of David Hasselhoff, Glen A. Larson, George Barris, Justin Bruening and other dignitaries.

KITT Car owners and fans will take part in raising money for the Children's Miracle Network.

International media will be present to observe this historical event produced by Paul Casey Productions, Las Vegas, Nevada.



Find out more about the festival at knightriderfestival.com.