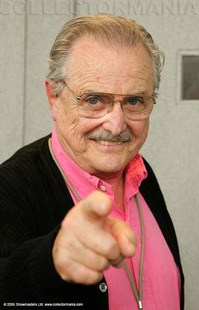 As you may recall, towards the end of last year there was a chance of a lifetime. We gave you the chance to interview William Daniels, the legendary actor and voice of KITT in the original Knight Rider.
Your fan submitted questions were used during a recording session by NavTones, who produce the KITT voice as well as dozens of others for your GPS. This 40 minute audio interview is now available for you to enjoy! Please head over and check it out! Be sure to leave your comments on that page, and say hello to Mr. Daniels and maybe even say thanks.
Thanks to all that participated in this by submitting their questions, some really fun answers were revealed! A special thanks to NavTones for supporting the fans in this way. Their new and improved KITT voice will be available for Garmin and TomTom on March 16th!