Deanna Russo (Sarah Graiman) was interviewed for the September 2008 issue of Maxim. The PG-13 rated photos accompanying the article are available on Maxim's website.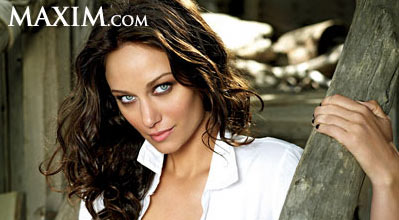 HEAT of the KNIGHT
Despite cameos from the Hoff and a talking car voiced by Val Kilmer, the new Knight Rider's true star is the formidable Deanna Russo.
By Allison Prato
Great news for anybody who's stuck in the '80s: NBC is bringing back Knight Rider, the iconic TV classic, with a Transformers-like KITT, balls-to-the-wall action, and a leading lady who's hotter than any babe from Dynasty. Her name is Deanna Russo, and after a recurring role on The Young and the Restless and guest spots on everything from N.C.I.S. to CSI, she's finally in the driver's seat.
We hear you've been doing tons of fight scenes and weapons training. If a crazy KITT lover attacks you in a dark alley, how will you defend yourself?
My character is known for her kicks and excellent marksmanship. If the attacker is far away, I'll shoot him down, and if he's close, I'll kick him to the ground. In other words, she's not just the good-looking girl in the corner who cries and doesn't know how to defend herself. I'm gonna pick a fight with the boys. I've been learning a mix of everything from karate to kick boxing to doble olisi.
Never heard of it, but it sounds terrifying.
It's a Filipino martial art. You have two bamboo sticks, and you can do some gnarly shit with them. You take someone out, or, if they have a gun, you can disarm them in half a second.
For all the Knight Rider fans out there, how can you assure them you guys aren't butchering the franchise?
The most important part of Knight Rider was the car, and we're putting it on the highest pedestal we can-honoring it as this incredible machine. Nowadays, everybody has a talking car, with GPS systems and OnStar, but this KITT is on a whole new level. For example, he's able to morph from a truck bed back into a Mustang.