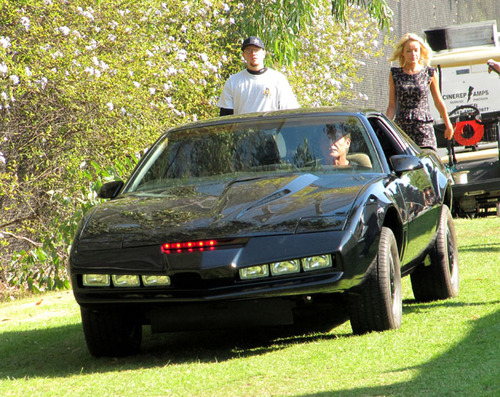 Our weekly(ish) KITT Bytes - bite sized Knight Rider News:
David Hasselhoff visited the LAPD Golf Tournament last weekend, arriving in his own KITT - check out this thread for more pics!
Lifetime announces holiday schedule, including the Nov 10th debut of "The Christmas Consultant" starring David Hasselhoff [via Variety]
Deanna Russo and CollegeHumor send up Katy Perry once again with I'm not Awake parody video. (and Happy Birthday to Deanna, on October 17th!)
Diamond Select Toys is at it again with a Michael Knight 8" action figure, complete with detailed cloth costumes and a highly posable body. This is part of a new line of figures which you can pre-order now for an April 2013 release [via Articulation Times] Also you can bid on winning a 1:15 prototype at this eBay auction - proceeds to benefit Children's Hospital Los Angeles
Knight Rider fan whom lost his job is auctioning off JoyRide Chrome KITT autographed by many including David Hasselhoff
A new company Kimera, is seek to put the KITT into Siri, making our smartphones actually intelligent.
Photo above courtesy of Jen Catano, who's driving her KITT on the Toyota Speedway race track in Irwindale, California!