David Hasselhoff was in Rosemead California today at a party celebrating the 85th anniversary of the California Mission Inn. This former Spanish Mission is now a beautiful full service senior retirement community and David's father Joe has been a resident there for the past 6 years.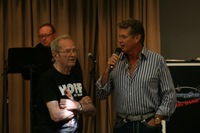 The event featured a Roaring 20's Celebration with people dressed in period costumes. Hasselhoff wanted to do something special for the event, and he asked his bodyguard (also named Joe) to see if they could hold a car show. Joe called Jen Catano from Knights of the West Coast, who had three days to put everything together. There were about 17 cars in all, including Jen's own KITT. There was Bumblee from Transformers, Herbie, a Smokey and the Bandit Trans Am, and many classic cars as well.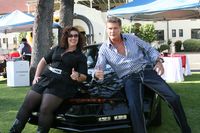 The mayor spoke briefly to the residents and community friends, and then Hasselhoff took the stage with his dad. They essentially did a 5-minute stand-up routine, with David asking his father questions about living at the Mission. It was very funny, and more importantly David really put the focus on his Dad
Hasselhoff then went out by KITT to sign autographs and pose for photos with residents and guests.