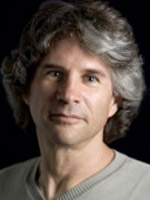 Attention East Coasters, here is your chance to meet Michael Scheffe, legendary designer of KITT (amongst others!) Michael Scheffe continues to be a huge supporter of the Knight Rider fandom, attending events here in Los Angeles and the Vegas Knight Rider Festival.
From their website:

Michael Scheffe, designer of the "Knight Rider" talking car KITT as well as the flying taxi seen in "Back to the Future II," is schedule to appear at the 2010 George Lindsey film festival at the University of North Alabama.

Scheffe will participate in a special effects workshop for festival goers March 5.

The workshop will include a screening of the short documentary "A DS in the Future," about the creation of the "Back to the Future II" flying taxi. Bernd Kruyt, director and producer of the documentary, will also participate in the workshop.
Lea Thompson, Bob Gale and James Tolkan from Back to the Future will also be in attendance.