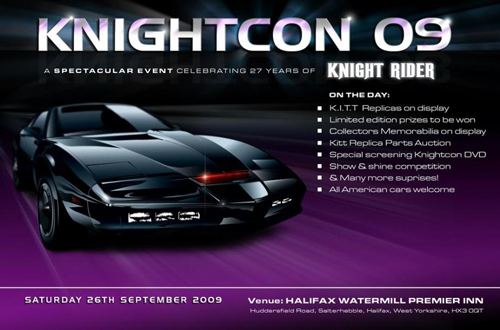 As many of you will have seen on the forum, Steve Fawcett, the man behind the KnightCon UK experience, has today announced that the 2009 DVD should be available in time for Christmas.
On behalf of everyone here at Knight Rider Online, I'd just like to take a moment to thank Steve and Rob O. for the work that they've done over the last few years, as the UK now has an event that truly personifies the show's legacy.
To see Steve's announcement, hit the jump.
Hey Everyone!

If you were lucky enough to attend Knightcon 09, you might have seen the Knightcon film crew running around capturing all the highlights of this years fantastic event!

I am please to announce that the OFFICIAL knightcon 09 DVD should be available for Christmas!!! and it captures all the excitement from the day! including, KITT replicas, exclusive interviews with Michael Scheffe, Nick Nugent, and car owners, and an amazing piece with Michael Scheffe sat in KITT, talking us through the design process of his incredible dash! which i believe is a first! Also on the DVD is a photo gallery and Bonus features including the VIP "Welcome Knight"

This DVD is a limited run, so dont miss out!! and order a copy while they are available

The Price for this Fantastic Event DVD is £12.00 plus £1.95 UK postage, for oversees please email us for a price

to order a DVD you can email me at knightconuk@hotmail.co.uk with your name and delivery details

or to secure your copy, you can send paypal payment to rob.sam@btopenworld.com again with your name and delivery details

Thanks guys!