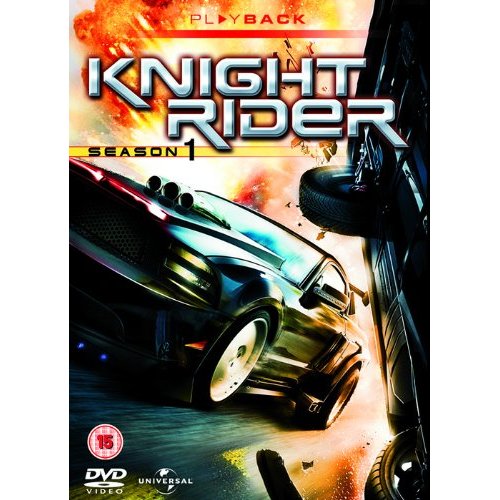 As I'm sure many of you will know, the Knight Rider 2008 DVD set was released on the 14th September here in the UK. Unfortunately, our plans to create a pre-release review were scuppered by the recent industrial action being carried out by the postal service. However, thanks to the efforts of the people at Universal Playback, we were finally able to get a copy early this month.
I know what you're thinking, but in spite of the time lapse, the saying does go, better late than never. Sadly, circumstances have since conspired to prevent a complete review from taking place. As a result, I have decided to take this brief moment under the dawn's early light to catalogue the content of each disc, so as to ensure that those of you that are still on the fence, will know the basics, such as how many discs are present, and what bonus features are available.
So, if you'd like to read further, feel free to follow the jump.
To begin with, there are four discs. On the episode front, disc one brings us the Feature Length Pilot, A Knight in Shining Armour, and Journey to the End of Knight.

Disc Two features Knight of the Iguana, A Hard Day's Knight, Knight of the Hunter, Knight of the Living Dead (yes, it is a traditionally spooky Halloween episode), and I Wanna Rock & Roll All Knight.

Discs three and four contain another five episodes a piece, beginning with Knight of the Zodiac on disc three, which continues through to Knight to King's Pawn, putting Knight Fever, Don't Stop the Knight, and Day Turns into Knight in-between.

Unfortunately, disc four is where many will feel let down, as the episodes are in the order they were aired on TV, rather than the order they were produced. This means that the establishment of new set elements and story points are shown out of sequence, beginning with what was originally intended to be the finale, Exit Light, Enter Knight. This is followed up by Fight Knight, Fly by Knight, Knight and the City, and finally, what should have been the thirteenth episode, I Love the Knight Life.

Amongst the bonus features are the Icon Reborn featurette, K.I.T.T.: From 2000 to 3000 featurette, the Knight Rider Legacy featurette, and the feature length pilot episode commentary, all of which can be found on disc one. On disc two, there is also a gag reel.

Unfortunately, without having being able to watch any of these features, it's hard to say just how much has been seen before. However, having said that, I suspect that everything baring the commentary on disc one will have been shown at some point prior to the premier of the pilot episode on Sci Fi earlier this year.

I find this to be somewhat disappointing, as this is likely to mean that there is very little new and unseen content, which in this day and age, is bound to exist in a digital archive of deleted scenes and alternative takes.

Still, there is plenty to be positive about given the likelihood that the new Knight Rider will not return for a second season, as often in cases like these, DVD sets can be cancelled as quietly as a show itself is, and at least this way, we have a keepsake of the journeys and missions that Mike and KITT embarked on during their short time together.

As they say, that in itself is worth its weight in gold.