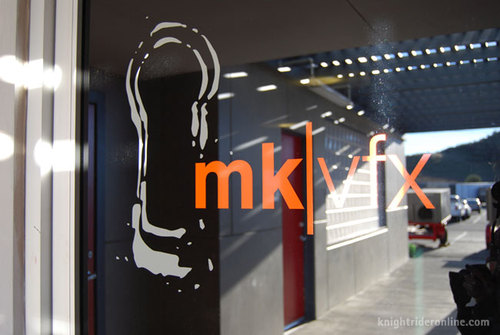 We've heard a little update from MasterKey, the amazing team behind the effects of the new Knight Rider series. They were featured in an article from Variety focusing on VFX Emmy Contenders:
Another entry in this year's race is NBC's "Knight Rider" and its battle between hero car K.I.T.T. and evil K.A.R.R.

Master Key VFX, which created the sequence, also gets enormous creative control and relies on small teams.

"It allows them to know how everything is connected," says Elan Dessani, effects producer for "Knight Rider."

Master Key was able to choreograph the K.I.T.T. vs. K.A.R.R. battle to put the focus on the cars, keeping the fight in one location so artists would only have to create one background landscape.

"We didn't expect to have that much power, but because we had proposed this larger sequence, (the showrunner) let us go," Dessani says.
Be sure to visit MasterKey's website where they've just relaunched their site, complete with a new reel that focuses on some of their post Knight Rider works. Also check out our time with them over the last year.