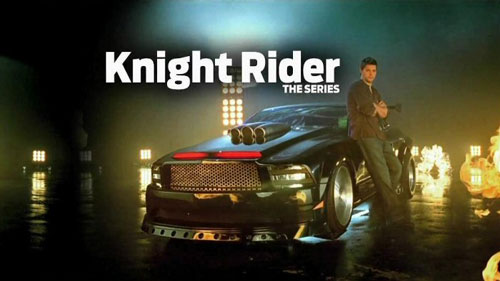 The last few weeks have been troublesome for this fandom at best, with very little good news emerging from the United States. However, the international premiere of the 2008 series has been creating some news of its own, with the backdoor pilot bringing in over 500,000 viewers on the UK Sci Fi channel last week.

The UK is the place of origin for our next piece of news, as this week, the first episode of the 2008 series, A Knight in Shining Armor, which was aired in a two hour block along with Joss Whedon's newly renewed Dollhouse.
As UK members of our community know, 500,000 viewers is a large audience for a niche cable and satellite channel in our country, and only Heroes had a substantially larger audience during its brief tenure on the channel.
This is where we get to the good stuff. In a piece of news that I'm sure NBC won't have missed, the UK audience jumped a whopping 35% last night, drawing in over 700,000 viewers, making Knight Rider and Dollhouse an excellent combination that has secured the 2008 series a solid second place on the channels list of most watched programs since the turn of the new millennium.
Whilst times are tough for us at the moment, it's important to remember the effect that the international audience had on the original series, as the fat lady may be bellowing her lungs out, but the final chord is yet is to be played in spite of the show being dropped from NBC's fall schedule.
For the full press release from the Sci Fi UK channel's website, hit the jump.
Knight Rider & Dollhouse emerge a winning combination
London, 20 May 2009: NBC Universal Global Networks today celebrates another ratings win for its SCI FI channel in the UK. First run dramas Knight Rider and Dollhouse together attracted over 700,000 viewers to make SCI FI the #1 pay-TV broadcaster during the highly competitive 8pm - 10pm timeslot.

Last week saw the premiere of the feature-length Knight Rider pilot - based on the 1980s original series - deliver SCI Fl's best series ratings since the first run of Heroes in 2007 (0.69 TVR). The second, 60 minute-long episode debuted last night at 8pm topped these results with a 0.93 TVR*, up 35% on the premiere. The results further cement Knight Rider's position as the second best performing series on SCI FI in over eight years.

The show was immediately followed by the highly-anticipated premiere of Dollhouse at 9pm, a new fantasy drama from Buffy and Angel creator Joss Whedon. The show premiere generated an impressive 0.72 TVR* - a 331% uplift on the channel's slot TVR performance for the year to date.

"We've been continuously investing in new acquisitions for SCI FI and believed that we were onto a winner by pairing up brand new Knight Rider with Dollhouse", commented Jon Farrar, Programming Director (UK), NBC Universal Global Networks. "Last night's ratings are testimony to the success of our acquisitions and programming strategy which, for SCI FI, centres around iconic titles with exceptional production values such as Knight Rider and Dollhouse."

Both series will continue to premiere back-to-back every Tuesday at 8pm and 9pm respectively, on SCI FI and SCI FI HD.

*Source: BARB/TNS Live data + VOSDAL based on exact transmission times 8pm-10pm includes timeshift viewing (8pm - 10pm). All data is for Adults in M/C Homes except for # comparison with multi-channel stations in same slot based on viewing % amongst Ads in Dig Cab/Sat Homes. Programme comparison is based on live performances.