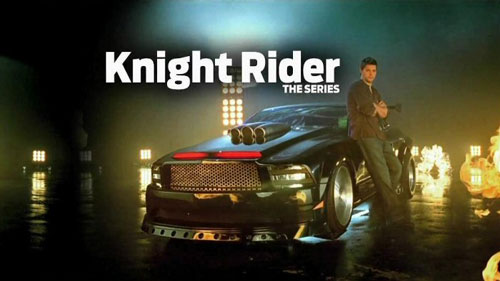 With all of us concentrating on the Knight Rider Festival this weekend, I'm sure we would have been forgiven if we managed to somehow miss one of the most newsworthy non-festival related stories that's currently making the rounds.
Whilst this news isn't going to have the global impact that a story regarding the show's renewal or cancellation would, it's heartening to learn that the 2008 continuation is finally beginning to spread its wings, and make inroads into some of the original series' most popular markets, markets that may prove to be an essential element in the show's fight for survival.
For those of you that are interested in reading the full story, feel free to hit the jump.
Knight Rider Revs Up Its SCI FI UK Premiere!

March 20, 2009 3:00 PM

Knight Rider is coming to the UK SCI FI channel this May!! It has just been announced.

For those who've not tracked Knight Rider's road back to series-dom, it goes something like this: NBC in spring 2008 debuted a two-hour Knight Rider telemovie/backdoor pilot that featured an updated K.I.T.T. in the US, David Hasselhoff in his familiar role as Michael Knight from the original 1980s series and relative newcomers Justin Bruening as Mike Traceur (or Tracer, as it's sometimes spelled) and Deanna Russo as Sarah Graiman. Strong ratings prompted NBC to green-light a series. Val Kilmer voiced K.I.T.T. (stepping in for Will Arnett, who had to bow out).

Knight Rider will differ greatly from the telemovie, with a revamped story, a new executive producer/show runner (Las Vegas' Gary Scott Thompson). Thompson, Bruening and Russo addressed those changes and more--no William Daniels, either, and probably no romance for Bruening and Russo--during a conference call with journalists on Sept. 9. 2009. Below is an edited version of the conversation.

In terms of momentum as actors, how difficult was it to get back into your roles and into the Knight Rider storyline?

Russo: It wasn't difficult at all.
Bruening: Yeah, it was not difficult at all.
Russo: Because we didn't take a break from it. I mean, once we wrapped shooting, ... we just kept working on Knight Rider from when we shot the two-hour pilot and then we were promoting it. And then we immediately started training into Knight Rider, even before we even knew officially. We just wanted to be prepared. ...
Bruening: I think deep down we had all confidence that it was going to go to series.


From a producer's standpoint, when Knight Rider aired it was a re-imagining of something we hadn't seen in a long time. It set the stage for a series, but at the same time there was a fair amount of closure. How challenging is it to excite the audience a second time as a series begins?

Thompson: Well, it's not just the second time. It's now 100 more times, because we plan on going a long time with this one. So challenge-wise, it was pretty easy, actually. We've got great stars here and a great car. We've got a few new Knight Rider cast members, great writers. So it actually was fairly easy. There's a lot of stories to tell.

You said at the Television Critics Association summer press tour that the Knight Rider series would not resemble the pilot in any way and that everything was scrapped and that the writers were developing a completely different mythology and storyline. Still true?

Thompson: It's still true. We went back to the original Knight Rider series to look at what made that work. We went through the pilot, and then, you know, we don't want to disappoint some of the fans of the two-hour [film], so we have four characters coming from that. So we made sure that those four characters clicked into what the new mythology was for the Knight Rider series. Again, it's 25 years later, so we have to update the car, update the people and be in touch with the times. So I think that's really what we did, ... just try to bring it up to date.

What were some of the new refurbishments for K.I.T.T. from the Knight Rider movie?

Thompson: K.I.T.T. can transform from one vehicle to another. He has more advanced weaponry.

What's the latest update on Hasselhoff returning for the Knight Rider series [as first reported on SCI FI Wire]? And any chance that William Daniels (who voiced K.I.T.T. in the original version) could return as either a voice or in the flesh?

Thompson: We haven't spoken about William Daniels at this point. I have spoken to David. And ... David and NBC and myself, we're discussing.

There wasn't a lot of time for a romance in the movie. Will there be more time for it in the Knight Rider series?

Bruening: Actually, that's kind of part of the Knight Rider story. We have to save the world, and there's not a lot of time for that, but trying to fit that in, having a life and, you know, going on the missions and all, that's kind of where sometimes the humor comes in ...
Russo: .. sexual tension ...
Bruening: ... and the sexual tension, and all of that.

But are you still each other's love interest?

Russo: Well, it's more of, like, the will-they/won't-they? kind of storyline.

From left, cast members Sydney Tamiia Poitier as Carrie Ruvai, Justin Bruening as Mike Traceur and Deanna Russo as Sarah Graiman. (NBC Photo: Mitchell Haaseth)

How often do you guys just crack up on set considering that you're dealing with a talking car day in and day out?

Bruening: No, our show is serious. What are you talking ... ?
Russo: All the time.
Bruening: All the time, especially when you add the green screen in with it.

What are you reacting to, since Kilmer's obviously not on set with you?

Bruening: We have a voice double for Val, and his name is John Berdell.
Russo: And he's amazing.

Gary said there are a lot of stories to tell. What sort of stories will you tell on a weekly basis? Are they stand-alones? Are they mythology? Will it be a combination?

Thompson: All of the above.
Russo: Ha ha, cop out.
Thompson: A lot, most of them, are stand-alones. It's, you know, boy and car save world. We live in a different world than the original Knight Rider show. In the original show, it was a drug dealer here, a runaway there. We live in a world now where there's terrorism, where people are trying to destroy and kill each other, and the stakes are a lot higher. So that's what we're going to deal with.

Back on the original show K.I.T.T. was truly a SF creation. Today, such a car seems incredibly close to reality, wouldn't you agree?

Thompson: It's very close. You know, everybody already has GPS and OnStar. The cars do talk to you. They're working on cars that can drive themselves using sensors, so they will never wreck. They'll know the speed limit and all that. So it's 10 years away, 15, maybe, [from reality].
Credit for the news articles goes to the team at SCI FI UK.