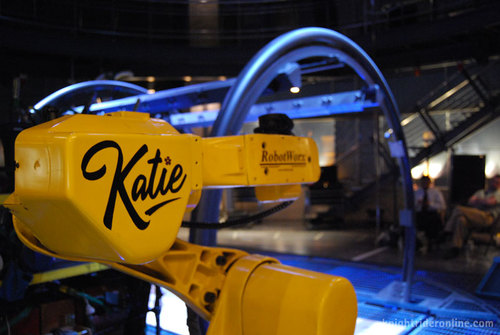 KITT certainly steals the stage, but Knight Rider has a few other sentient machines in its cast. We have had some questions regarding the robots Katie, Lisa and Hank in our forum. We did a little searching and found some great articles all about them on the RobotWorx website.
Katie and Lisa
NBC's Knight Rider T.V. show takes an automated approach to mechanic work.
Two reconditioned RobotWorx robots act as intelligent grease monkeys in KITT's high-tech garage. Named Katie and Lisa by NBC, the robots scan KITT for damages, and even interact with the human actors around them.
Want to learn more about Katie and Lisa? Here's the scoop.
What Kind of Robots Are They?
The Knight Rider robots are Fanuc ArcMate 100i models. They are versatile, standard industrial robots with 6 axes (joints) of motion. They can lift up to 6kg, reach as far as1373mm, and install anywhere - floor, wall, upside-down, and at an angle.
Fanuc ArcMate 100i robots are known for their speed, accuracy, and compact build. Acting is definitely not a normal line of work for these robots. Instead, they perform a variety of jobs, including arc welding and material handling, often in factory settings. See them in action: ArcMate 100i robots welding.
Getting the Knight Rider Robots Ready:
RobotWorx' main specialty is reconditioning. The company takes used robots and fixes, cleans, and integrates them into robot systems. The Knight Rider robots received the same treatment. Before the robots shipped to a filming studio in California, a team of RobotWorx technicians made sure the robots were cleaned, reworked, tested, and repainted.
Out of Context: Industrial Robots on Film
One change had to be made before Katie and Lisa were deemed stage-ready. Each robot is powered by a controller - a large, rectangular cabinet that houses the brains of the robot.
"The controller needed to be dead silent," RobotWorx' shop manager Matt Schrift explained. "But the fans are there for a reason. They're part of the normal noise the controller makes."
The solution? A longer cable was provided so the controllers could be placed further away from the robots.
Final Step: Robot Training
Robot technician Robert Edens Jr. was responsible for training a representative from NBC's set crew at RobotWorx' Marion facility. Edens taught the NBC set technician about the robots' safety features and how to direct their movements. To simulate KITT, Edens used a box and cart.
All About Hank
A third RobotWorx robot took to the stage in the most recent episode of NBC's Knight Rider.
"Hank" is a robot with feelings. With this industrial robot character, the NBC TV show explores human-robot connections. Not only does he communicate with other human cast members, but he's rather sentimental about his past. Like Katie and Lisa, Hank is presented as another one of Dr. Als Graiman's artificial intelligence creations. In this episode, Hank malfunctions, throwing objects till the Dr. has to temporarily cut the robot's power.
The Technical Side of Hank
Hank is a reconditioned Fanuc ArcMate 100i robot identical in construction to both Katie and Lisa. This robot is a 6-axis model with a 6kg payload and 1373mm reach. However, this time the Knight Rider special effects team outfitted the robot with "eyes" and a customized gripper.
The end-of-arm-tooling (EOAT) was simulated in AutoCAD, then cut out with a CNC machine. An extra ram was built into the gripper, allowing Hank to propel objects much like a pinball machine. The pneumatics of the gripper mechanism are all handled by the industrial robot's controller.
NBC achieved a human-like quality when they created the robot's radio-controlled, moving eyes.
"That's what really sold it - to have the eyes go up and down - which makes it look like he's tracking something," NBC's special effects technician said.
As with programming for any industrial application - welding, material handling, cutting - the movements of NBC's Hank, Lisa, and Katie are inputted using a handheld teach pendant. While some of the programming is handled in advance, with the help of a breakout panel, at other times the special effects technician has to move the robot "on the fly" with the pendant. This robot adlibbing can be very challenging.
NBC's special effects technician received his robot training in one day at RobotWorx' facility. "I picked it up really quickly, but there's still a lot I can learn," he said. RobotWorx offers free training to every customer. The robot integrator also provides technical support over the phone, another benefit NBC's tech appreciates. He normally talks to one of RobotWorx' project managers, Dustin McDowell: "Dustin's really smart - he actually knows what's wrong before I call."