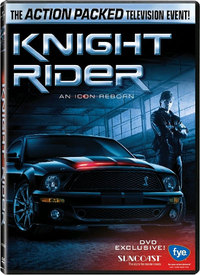 News from TVShowsOnDVD brings word that the thought canceled Knight Rider Pilot DVD is alive and well, sort of.
Shoppers of FYE or Suncoast, only have to purchase one of a selection of TV on DVD from one of their stores (online included) and they will receive a copy of the Knight Rider 2008 Pilot free (while supplies last).
From TSOD:

The free-with-purchase release goes under the title "Knight Rider - An Icon Reborn," which certainly sounds fitting! DVD titles to purchase, which qualify you to get this disc, include any of the first four seasons of the original Knight Rider series, either season of Friday Night Lights, the first season of Heroes on DVD (the Blu-ray version isn't included), any of the first three seasons of The Office, the first season of 30 Rock, or the first two seasons of either Miami Vice or Law & Order: Special Victims Unit. Purchase any one of the above, and you should be able to drive off with K.I.T.T.! See your local store, or the chain's website, for complete details. Our thanks to "Jeff " for sending us the heads-up about this promotion.