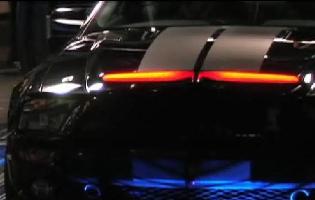 Those lucky folks over at BuddyTV have gotten to go on set at the filming of Knight Rider!
They plan on releasing a new video every monday. This edition they talk with Justin, Gary, Deanna, Paul and Bruce, while also showing a bit of the set (check out those guns!) and filming KITT on green screen.
My first instinct when entering the Knight Rider set was to run around like a little boy, touching all the computer monitors, running up the metal stairs and sitting in KITT's driver's seat. Or maybe that's just me. Either way, being on the set is like being a kid in a candy store, and I got the impression that's exactly how the cast feels as well.
You can check out their video here!
UPDATE: Found an embed: