If you've been itching to get your hand on these toonified creations from Minimates now finally is your chance. They've became available in your local comic shop recently, and from what we hear have been tough to keep in stock. Check out comic shop locator to find a retailer nearest you, or at a speciality store online. Remember that MSRP is $14.95, so be careful to not over pay.
Diamond Select Toys was kind enough to send us some of them our way for review, and boy are these items well done! Currently available is the SPM KITT with Michael in blue shirt, and KARR with Garthe Knight (the standard KITT with Michael in red shirt is a Toys R Us exclusive not released). While the scale does prevent them from replicating every exacting detail, there was a lot of little nice touches that made me smile. From little things like Michael Knight having his wrist comlink, to a pretty successful execution of a dash and upper and lower consoles. The cars themselves have working doors, while the figures are pretty posable, allowing you to bend them into any staged situation you wish. And while KARR and Garthe never teamed up in the series, you know that is where the writers were going to take it eventually!
There is some minor assembly required, primarily in applying decals. Be sure to give extra time and care when applying them in the interior due to the cramped working area.
For the diehard fan, or for the young kids at home, there is no reason not to buy this and enjoy. Hours of fun is about to be had, DST and Minimates have a great product on their hand, we can't wait to see what comes next.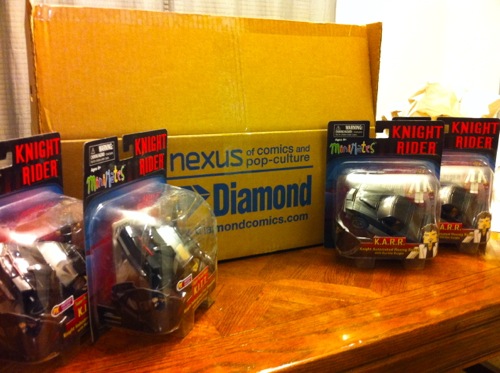 We are giving away one SPM KITT with Michael Knight and one KARR with Garthe Knight to a lucky reader thanks to DST! Simply fill out the form below to enter.
We will be meeting up with Diamond Select Toys at the Toy Fair in NYC next month, where they plan to reveal some updates of their licenses including Knight Rider!