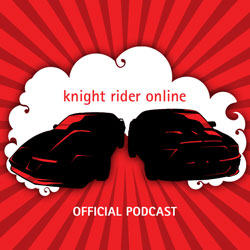 If you are a fan of podcasts and you're looking for a source for a Knight Rider, then look no further! Now in it's seventh edition, this bi-weekly podcast hosted by our own FuzzieDice is all you need to keep up to date on the latests goings on in the Knight Rider world.
In this episode, we review the latest epiosde "Knight of the Zodiac" and discuss the Knight Rider reboot, new KARR secrets, VFX Team being interviewed, new 2010 mustang, as well as the Knight Rider Festival and more!
Check it out and subscribe from these sources:
via iTunes (Recommended)
via RSS (m4a Enhanced Podcast)
via RSS (mp3 Audio Only)
If you have any questions or topics you'ld like us to discuss on the podcast please !