Pre-orders are now being taken for the official merchandise of the Knight Rider Festival. This year, artist Nick Nugent has done a great job translating his Festival branding to a couple of great products. Available of course is the Knight Rider Festival T-Shirt, but unique for this year is a special limited edition copy of the poster. At 16" x 24" it's great for framing, and is specially printed with gold ink and signed by the artist. (For a look at the process in creating the poster, check out this really insightful representation of it's revisions) Quantities are limited, so be sure to order while you can.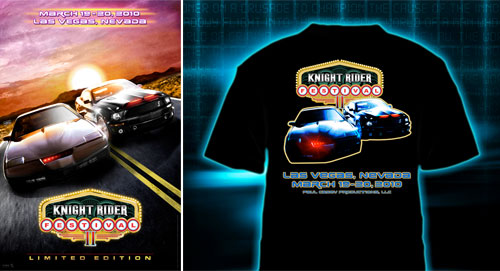 Both items are available now for pickup in person at the Festival. The Poster is available to anyone not attending, but will not be shipped out will until the first week in March. Be sure to choose the right item when ordering.
It's important to note that a portion of the proceeds will be going to support the Children's Miracle Network. The mission of Knight Rider Festival is to help show that we as fans can make a difference in a child's life.
Order now at knightriderfestivalstore.bigcartel.com