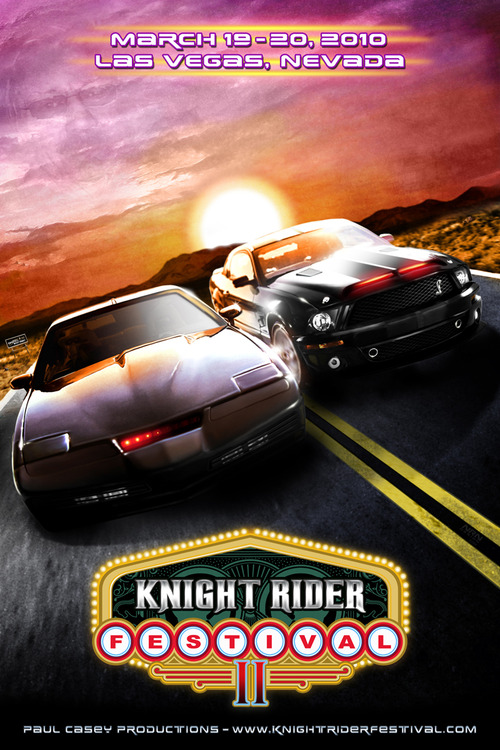 Friends,
With just over three months to go to the 2nd annual Knight Rider Festival where fans from around the globe will descend upon the Fremont Street Experience to celebrate Knight Rider. If you are planning on attending be sure to visit the festival website (
http://knightriderfestival.com
) which has recently been updated with all the information you need. Paul Casey and friends are once again working hard to make this event the greatest Knight Rider event ever.
This event is to celebrate the fans who have kept the Knight Rider dream alive for over 27 years. By believing and supporting the belief that one person can make a difference, the event will again look to raise funds to be donated to the Children's Miracle Network.
Some important notes on the website:
* The Event is still FREE to the public and takes place from March 19-20! Be sure to check out the schedule for complete breakdown.
* Replica owners have until March 2nd to register at the early bird rate!
* Discounted rooms at the Golden Nugget are now available for reservation in a limited quantity, so book soon to lock in the discount - once the rooms are filled, there wont be any more.
* Replica Owners and rooms reserved under the Festival group will receive one ticket to the exclusive VIP Party. Last year this allowed you to have one on one face time with great people like Glen A. Larson, Catherine Hickland, Michael Scheffe, George Barris, Justin Bruening and many many more.
* The Cruise down the Vegas strip has been moved form Friday night to Saturday night
* Revealed for the first time today is the new poster for the event! Designed once again by the greatly talented Nick Nugent, you can click on the example above for a better look, or at the festival website. There you will find an animated version that's really slick, as well as one specially formatted for your MySpace page
There is a lot more to come that we can't reveal, so be sure to keep checking back for updates. But if you want a hint, just look to the sky...