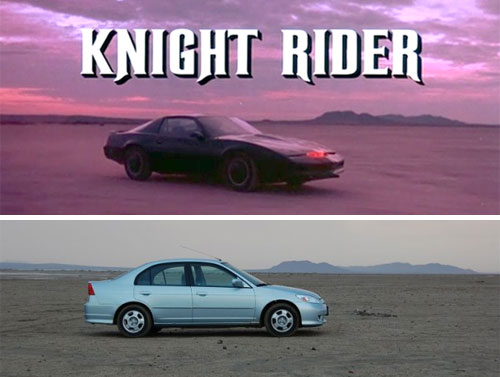 One of the favorite past times in our forum recently has been to go over every Knight Rider episode with a fine tooth comb, and find the real life filming locations. With most often nothing more than screen caps, Google Maps, Microsoft Live maps, and Google Earth (with the occasional on the ground support to verify), they are quickly turning through episode after episode.
Currently pushing seven pages in length, the Locations thread has found spots from episodes such as White Line Warriors, Diamonds Aren't a Girl's Best Friend, Knight Behind Bars, Soul Survivor, Killer KITT, KITT vs KARR and many many others.
One of the most creative finds recently has been by our forum member Sue who tracked down the Knight Rider opening to El Mirage Dry Lake, where she proceeded to make this wonderful recreation of the opening credits, check it out:
If you have a keen eye for detail and are handy with geography - you should jump right in and lend a hand!