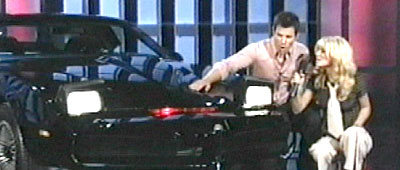 This past Sunday, ABC premiered the Nick and Jessica Variety Hour, staring the reality couple of the moment. During this hour, Nick sang a duet of just the two of us, with KITT.
From cloudkitt:

Just now, I was channel surfing and came across that horrible Jessica Simpson show. However, right when I got their. Nick says, "I'd like to introduce an idol of mine, KITT from Knight Rider!!!"

And he and KITT sang "Just the Two of Us" KITT's voice impersonater was horrible, but I think it was supposed to be. And KITT made some off-comment about his parents being divorced (??)

You can watch the video for yourself here. Thanks to Michael Pajaro for the video.
Thanks to cloudkitt for the spot!