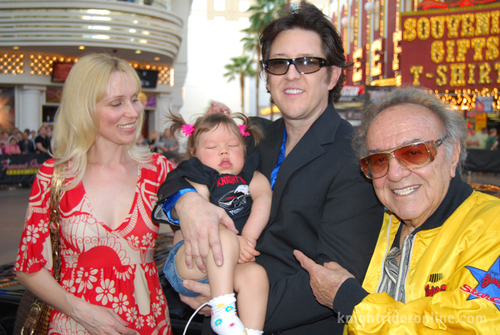 At the Knight Rider Festival, Paul Casey the shows creator introduced his beautiful daughter to us. She is a special needs child and the reason behind his strong drive to help make a difference.
Just like Paul, everyone who came to the Knight Rider Festival was there to make a difference. Some donated time, others money, and some the use of their creative talents.
If you could not come this year there is still a chance to make a difference and help children. Proceeds from the items in our store will go to charity. We've got official festival t-shirts, Knight Rider Online t-shirts and button packs.
We also ended up with an extra signed autograph sheet and some other goodies. So to continue on in the spirit of the event that brought all of these honored guests together, we are actioning it off for charity. We've put it together with a package where the winner will also received a official festival shirt, collectors edition copies of Today In Las Vegas (with KITT and Deanna Russo on the cover) as well as KRO pins and swag. Auction will end on March 31st and we will ship internationally!