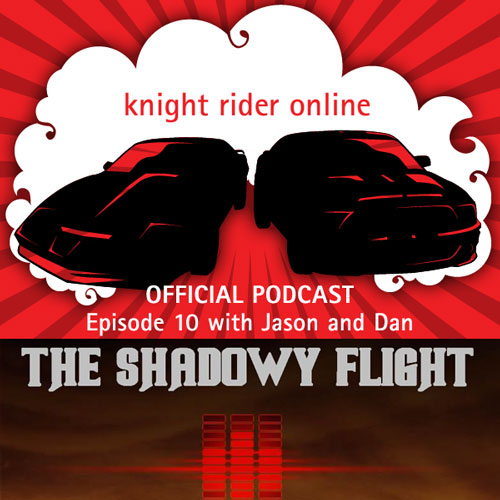 Due to unfortunate circumstances, we had to put the Knight Rider Online podcast on hiatus back in January. Since then we've been busy preparing for the Knight Rider Festival and launching the Campaign for a Second Season, that our beloved podcast fell down in priority.
While we aren't ready to announce a full return to form or even a rebirth, we do have a special edition episode available now. The fine hosts of another Knight Rider podcast - The Shadowy Flight - were gracious enough to help us with an episode during our transition and we are very thankful that they did.
If you're not familiar with Jason and Dan, their podcast The Shadowy Flight, started a little after we did back in August, but their episode style is completely different. Where as ours had tended to wrap up the news of the last few weeks, theirs is more episode focused. Each edition they spend at least an hour having a healthy discussion about an episode. It has been mostly for the Knight Rider 2008 series, but they've also done Knight Rider 2000, Knight Rider 2010 and some of TKR. They'll begin reviewing the original series very soon as well, so be sure to give them a listen.
We'll be back very soon with more on the podcast future. Thanks again to Jason and Dan for their hard work. We had the pleasure of meeting them at the Knight Rider Festival and they really are a class act, so check them out!
* If the latest episode isn't displayed in iTunes, you can download it directly.