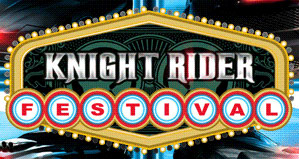 The Knight Rider Festival, a gathering of Knight Rider fans in Las Vegas on March 20-21 2009, is now accepting submissions from car replica owners willing to participate. Registration is free from now until February 15, 2009.
KNIGHT RIDER REPLICA- TRIBUTE CARS-PONTIAC/FORD PRE-REGISTRATION - Free before February 15, 2009. First Come-First Serve Basis. *After February 15, 2009 there will be $45.00 Fee for administration cost

Owners will receive the following:
Special Four Queens Hotel Rate-"First Come Serve Basis"
Car Registration Free*
VIP Pass includes:
VIP Invitation Party Pass
Autograph with special guests
Photo with celebrity
Preferred Seating Q&A
Car Owner Plaque*
VIP Fremont Street Mall Parking
The Knight Rider Festival is looking to be the largest Knight Rider gathering ever, with tentative confirmations from many people behind and in front of the cameras of Knight Rider from the last 27 years! It's an event that you wont want to miss.