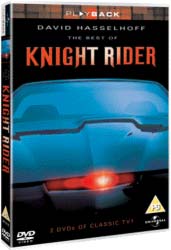 Now available on DVD in areas of Region 2 and 4 is the Best of Knight Rider, Two Disc Set. Universal Playback (the UK branch of Universal that releases TV shows on VHS and DVD) has released a collection of five episodes from the first two seasons. They include:
Trust Doesn't Rust (KARR's first appearance)
Knight of the Phoenix (Pilot)
Soul Survivor (whiz programer steals KITT)
Knightmares (Michael gets amnesia and reverts to his former Identify)
A Good Knight's Work (a man from the past hunts michael)
These episodes form a pretty solid selection of Knight Rider at its finest. While not being the definitive "Best Of" it gives a good showing, and only one episode on this set (the pilot) has been released to Region 2 and 4 DVD prior. Each episode has audio in English, French and German. Subtitles in English, Dutch, French and German.
Previous releases only had three episodes per disc. Lets hope for our European friends, that this is a sign of how things are going to be from now on, with a more extensive collection for the same price.
The set is available now at Amazon or your local DVD retailer.