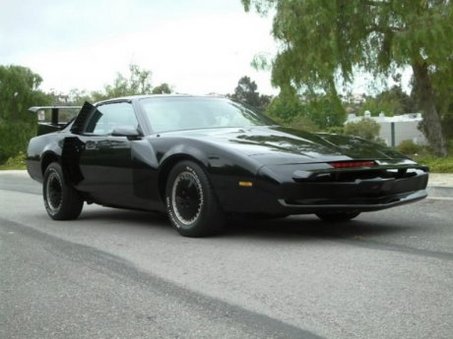 this KITT may or may not be appearing in Staten Island next week
If you happen to be in the NYC area in the next week - we have a couple of events for you!
First up, this weekend is the Autoseum Car Show, which helps to sponsor the construction of a car museum at the Cradle of Aviation Museum in East Garden City on Long Island. Running Saturday and Sunday, the show is open from 10am till 5pm on both days and costs $7 per person (kids under 12 free). Additionally - they are offering a special talegate event after hours on friday for $50, which includes dinner and a meet-and-greet with Barris
The vehicles include the original Batmobile from the "Batman" TV show; General Lee from "The Dukes of Hazzard"; K.I.T.T. from "Knight Rider"; the Monkeemobile from "The Monkees"; the Ford Grand Torino from "Starsky and Hutch"; and the "Drag-U-La" from "The Munsters." Original cars from the movies include the Ecto-1 from "Ghostbusters," James Bond's Aston-Martin DB5 from "Goldfinger"; the Triple X cars from "XXX" starring Vin Diesel and "XXX: State of the Union" with Ice Cube and Samuel Jackson; and the van from "Scooby Doo."
Then on August 26th and 27th on Staten Island, Soundsation (2311 Forest Ave., at the corner of South Avenue) will be displaying a replica of KITT, as well as having George Barris himself appear. Originally, an infamous version of the Super Pursuit Mode KITT was scheduled to be on display, but due to some travel issues, this may not happen and a terrific KITT replica will be there instead.
The Event is free - however they are looking for donations as part of a fund raiser for a little 5 year old girl named Sarah Boschi, who is suffering from a couple of genetic diseases.
KITT was known for his knack for helping Michael out of a jam. It's hoped that KITT fans will step up to help Sarah.


After all, as Michael's benefactor, Wilton Knight, famously told him, "one man can make a difference."
[SILive on Staten Island apperance]