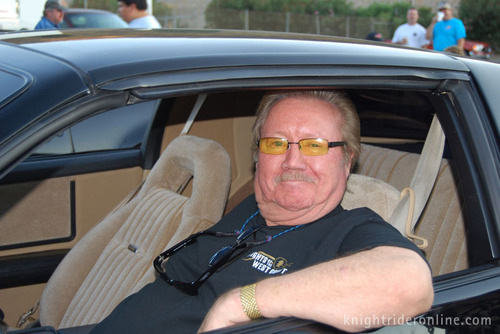 Glen Larson at a Knights of the West Coast car show, 2008
Not only does 2012 mark the 30th anniversary of Knight Rider, but also the 75th birthday of Glen A. Larson. By creating Knight Rider in the 1980s, he captured the imagination of the world, and empowered them to believe that one man can make a difference.
We would like to take a moment for fans like ourselves whom he inspired, to say "Happy Birthday!" and we look forward to what the ride has ahead.
Watch Glen A. Larson receive honors at Knight Rider Festival.
Starlog magazine ran this profile of him in 1997:
[Glen Larson's] greatest success was Knight Rider, which put Hasselhoff behind the wheel of K.I.T.T., a Pontiac Trans Am with a mind of its own...

Knight Rider appealed to Larson because it fulfilled a part of him that enjoys science fiction, particularly when it becomes science fact. "K.I.T.T. was the first car in America that had L.E.D. readouts on the dashboard," he notes proudly. "And it could also steer and brake itself. Now we're looking at automobiles that have radar-activated brakes and steering. So it's fun to contemplate where we can go. Many of the things we developed for K.I.T.T. were done by young designers who did work for Mattel and others. We didn't go to the usual Hollywood shops to design an interior. It's fun to stretch the envelope a bit, and we're doing that with NightMan, taking him beyond what has been done. It may not be on the shelf right now, but these are things humans could develop."

NBC revised Knight Rider several years ago in the TV movie pilot Knight Rider 2000, but Larson (who wasn't involved) was disappointed by the results. "They missed the point," he observes. "I don't think they understood the series or what made it work in the first place. They went off in the wrong direction. The audience was there, but the movie didn't appeal to them." The property is being reprised anew this fall as Team Knight Rider, and Larson hopes they do a better job this time.

Douglas Snauffer - Starlog, October 1997