The Daily Mail reports of a new driverless vehicle soon to hit the streets at London's Heathrow airport.

Developed by French company INRIA over 10 years, the Cycab looks like a futuristic golf cart. It uses a laser to avoid obstacles in its pathand a dual-lens camera to follow road markings. It can even be navigated from a mobile phone.

Each CyCab also communicates via the internet. This means that the vehicles can share information so that they can follow one another at a small distance, or surf the web and gather real-time traffic information so that they can avoid traffic jams.

An automated voice gives information to passengers along the route, much like the KITT car from the popular TV series Knight Rider, which starred David Hasselhoff.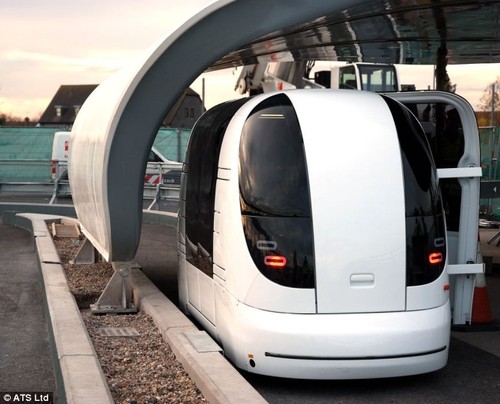 The British version of these cars, set to be activated in November, have a sleeker design than their predecessor. But incorporate the same technology. The top secret GPS tracking system that allows these cars to be a reality is the same GPS technology that guides cruise missiles within hairs of their target. Most consumer grade GPS devices are purposefully made to be mush less accurate.
But if military grade technology and computer chips driving your car has you a little on edge; it might be reassuring to know that like KITT, the Cycabs will have a manual override that can be activated by entering a code.
The only thing Advanced Transport Systmes Ltd, the car's maker, has left unanswered about the car is the chemical compound of its outer shell.