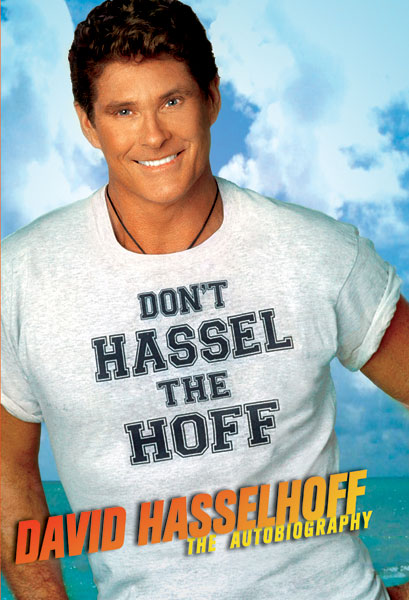 David Hasselhoff's auto biography "Don't Hassel the Hoff" was released this week state side. Buy it here on Amazon!
In this book he talks about many things, including Knight Rider. Below is a short excerpt:

When people stop me in the street today, nine times out of ten it's because of Knight Rider. It was a show about heroes, about a man who could change things, about a man who helped others. The Knight Rider slogan was 'One man can make a difference'. I truly believe that I got the role of Michael Knight for a reason. I was given a power that could be used in a positive way, far greater than anyone could imagine, to help sick and terminally ill people, mainly children who watched the Knight Rider programme and believed in its hero.

The person who made me realise that helping others was my purpose in life was Randy Armstrong, a fifteen-year-old leukaemia patient who visited the Knight Rider set at Universal Studios in 1983. After his death, I received a letter from him begging me to help other sick children forget their pain. The letter came with a photograph of Randy in his casket dressed in the Knight Rider hat and jacket that I had given him as mementos of his visit. From that moment on, I felt it was a spiritual calling and maybe it explained why I had been chosen as the Knight Rider. It was a much bigger responsibility than playing the hero in a TV show; I actually had to be a hero. My quest, my calling, had begun. From then on, we opened the doors of the Knight Rider set to any suffering child.

On my travels I visited the children's wards of hospitals in forty countries: I rarely left a country without visiting sick children. It became a mission. The children had absolute faith in the Knight Rider; he was their hero and he could make them smile and forget their pain, if only for a few moments. I've held little children as they faced death with a courage that had to be seen to be believed.

There have been many disconcerting and humbling experiences. One Christmas Eve my mother called me. 'David, a boy was knocked down on a crosswalk,' she said. 'Somehow his parents got my phone number - will you go and see him?'

The hospital was right around the corner from my home in Los Angeles. The child was in a coma, oblivious to his surroundings. I asked the parents what they would like me to do. They said: 'Maybe you could hold his hand and the darkness won't seem so dark.' After being with the boy for half an hour, I turned to the parents and said: 'Can I ask you a question? How do you retain your faith in God when something like this happens to your son?'

They said: 'Because you came.'

'What?'

'David, we know there is no hope for our child but we prayed that his hero would come and, David, you came.'

I fought back the tears and stayed with that boy for another hour. He came out of his coma, looked up and said: 'Michael Knight' and gave me a hug. Twelve hours later he passed away.

It has always been the children who are the true heroes and to this day they are still my most loyal fans.
We're Hofficially on vacation this week - we will have a review for you then!