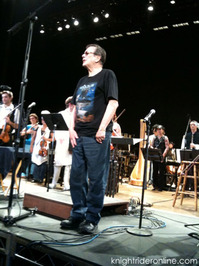 The Golden State Pops Orchestra paid tribute to Stu Phillips last night in the beautiful, 1930s art-deco Warner Music Hall. I didn't think I was going to be able to make it to the concert, but I was able to at the last minute and was glad I did.
I admit I was a little disappointed when I first saw the program; Stu had told me that they would be performing Knight Rider during the concert, but it wasn't listed on the schedule. These things happen, but I was still looking forward to the other performances. First, conductor Steven Alan Fox led the orchestra performing the end credits to Star Trek First Contact (not one of Stu's pieces). They also performed a classical piece Stu composed, to show that Stu wasn't just a "Hollywood" composer.
Stu came on stage and led the orchestra performing movements from Battlestar Galactica, Buck Rogers, and an independent film he scored, "The Name of the Game is…Kill." Before each piece, Stu would give a brief overview of the storylines and characters. He was very funny about it all, and had a tongue-in-cheek attitude about how shows were a bit different in the 70s. The BSG theme in particular was absolutely amazing performed live.